renewable energy solutions
Saving through efficiency
Air Source Heat Pumps (ASHP) can be a great renewable energy solution for most homes, especially 'off gas' properties. ASHP's act with a similar concept to an air conditioning unit, but in reverse. They harvest the heat in air from the outside of your home, which is then compressed to increase the temperature and transferred into the heating and hot water systems in your home. This heat energy can be used in traditional radiator panels, under-floor heating systems, or even your hot water system.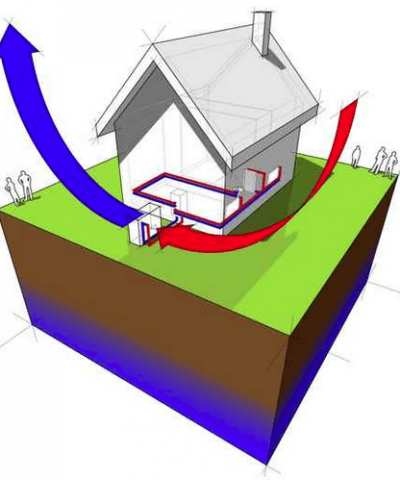 You can purchase an ASHP via a Government Scheme called the Renewable Heat Incentive (RHI). Through the RHI, the home owner can receive annual payments after the successful installation and registration of the system, making additional savings on your energy bills! For more information on the RHI scheme, please check our RHI page or the government website.
ECO conscious and a sustainable future.
Heat pumps are an environmentally friendly and low carbon solution to energy efficiency. Reducing carbon emissions and helping to reduce the environmental impacts of heating our home.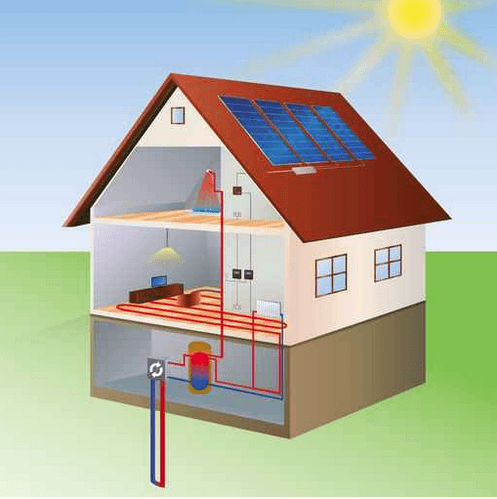 Ground Source Heat Pumps (GSHP) are another efficient solution for providing renewable heat into your home. It works by either burying a horizontal loop of pipes or a vertical borehole loop of pipes into the ground next to your property. Heat is then harvested from the ground, ran through a heat exchanger and transferred into your homes heating systems.
Ground Source Heat Pumps provide similar benefits to Air Source Heat Pumps, including potential savings on your energy bills and payments through the Renewable Heat Incentive (RHI).
They may even add value to your property.
Solar PV systems capture the sun's energy using photovoltaic cells. These cells don't need direct sunlight to work, as they can still generate some electricity even on a cloudy day. However, the stronger the sunshine, the more energy they produce.
The cells convert the sunlight into electricity, which can be used to run household appliances and lighting. So timing the usage of your appliances with your solar peak time generation, can help reduce your electricity bills.
Solar PV can also be paired with battery storage, to provide additional benefits. Your solar array could charge the battery system during their daytime operating hours, allowing for self-generated energy use at night.
All heat pump and solar projects must be installed by an approved MCS installer. This is a robust auditing and accreditation process. MCS helps ensure the company completing your installation meets the required industry standards and enables the project to be registered to receive any available government initiatives, such as the Renewable Heat Incentive (RHI). Our MCS accreditation is through NAPIT, with registration number: NAP/28808/19/1.
To check if an installer is registered, visit the MCS website.
Installers also need to be registered with a relevant consumer code such as HIES, so be sure to check these for these accreditations before a company completes any of the above work on your home.
Warranty, consumer protection and servicing
In addition to the product warranty, we will register your installation with The Home Insulation & Energy Systems Contractors (HIES), for an insurance backed guarantee. HIES is a Chartered Trading Standards Institute (CTSI) approved Consumer Code, and is a leading consumer protection organisation covering the installation of home energy products.
In order to continue to receive payments through the RHI, an annual service must be completed on your heat pump, for at least the duration of the RHI. We can provide you with a service plan to suit your needs.